Got a very long list of shows I want to watch, it's jut finding the time to sit and enjoy them. Thankfully with my Plex system up and running and stocked with hundreds of tv shows I can catch an episode here and there, at home or out and about.
Below is my latest list I have queued up and will be slowly start working through them in no particular order..
Final Space – All 3 Seasons.
Gary Goodspeed is an energetic yet dim-witted astronaut who, in the midst of working off the last few days of his five-year sentence aboard the prison spacecraft Galaxy One, encounters a mysterious planet-destroying alien. He befriends the alien, naming him Mooncake, and then discovers that they are being pursued by the sinister, telekinetic Lord Commander. Together, Gary and Mooncake embark on a quest to save the universe, with help from the artificial intelligence HUE and a growing crew of shipmates, each with their own personal troubles — all while trying to uncover the secrets surrounding Final Space, a bizarre realm where the universe ends.
Xena – All 6 Seasons.
Xena is the protagonist of the story, and the series depicts her on a quest to redeem herself from her dark past by using her formidable fighting skills to help people. Xena was raised as the daughter of Cyrene and Atrius in Amphipolis, though the episode "The Furies" raised the possibility that Ares might be Xena's biological father, but it is never pursued further. She had two brothers, the younger of whom is dead; she visits his grave to speak with him in "Sins of the Past". In Hercules: The Legendary Journeys, during her two first episodes, Xena was a villain, but in the third episode she appears in, she joins Hercules to defeat Darphus, who had taken her army. Aware that the character of Xena had been very successful with the public in the three Hercules: The Legendary Journeys episodes, the producers of the series decided to create a spin-off series based on her adventures. Later in Xena: Warrior Princess she is joined by Gabrielle, a small town bard. Together they go up against ruthless warlords and gods in the ancient mythological world.
The character Gabrielle, introduced in the first episode, becomes Xena's greatest ally, best friend, and soulmate. Gabrielle came from a small village in Greece called Potidaea. She craved to escape from the boring and dull village. She latched onto Xena in episode 1 as a way of leaving the village, to travel on adventures. Her initial naïveté for the first 3 seasons and her talkative nature helped to balance Xena's pessimistic mentality. While Xena's character to an extent alters subtly through the series, Gabrielle's character goes through substantial development and change especially in seasons 3 and 4. Through their friendship/relationship Xena recognizes the value of the "greater good" and the sacrifices that must be made to accomplish it (a central theme in the series in later seasons).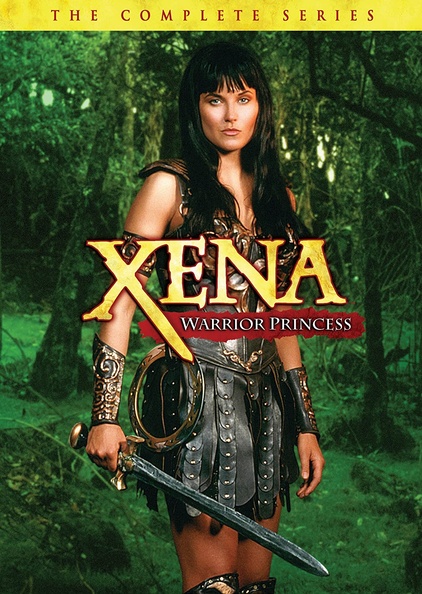 Michael Palin in North Korea – Season 1.
As diplomatic relations between DPRK and South Korea begin to slightly thaw after decades of hostility, comedian and world traveler Michael Palin is allowed to visit North Korea for two weeks and, to a limited extent, explore the country.
Rick and Morty – Season 5.
An animated series on adult-swim about the infinite adventures of Rick, a genius alcoholic and careless scientist, with his grandson Morty, a 14 year-old anxious boy who is not so smart. Together, they explore the infinite universes; causing mayhem and running into trouble.
Jupiter's Legacy – Season 1.
Shortly after Sheldon Sampson's father's suicide in 1929, triggered by Black Tuesday, former businessman Sheldon travels to an uncharted island in the Atlantic Ocean, where he, his brother, Walter and four others received superpowers. He then creates a superhero team called the Union of Justice and his guiding ideals – never kill anyone, never interfere in political matters – remain unchanged over the near-century of his adventures as the Utopian.
However, the next generation of superheroes, including his children, struggles to live up to his rigid ideals and high expectations. When Sheldon's son, Brandon seemingly kills one of their greatest foes, it ignites a public debate over whether those ideals are still relevant.

Invincible – Season 1.
The son of Earth's most powerful superhero is about to become something greater than himself: something bold, something universal, something – Invincible. From the comics to the screen, Invincible follows Mark Grayson's journey of becoming Earth's next great defender after his father, Nolan Grayson: also known as Omni-Man.
Loki – Season 1.
After stealing the Tesseract during the events of Avengers: Endgame (2019), an alternate version of Loki is brought to the mysterious Time Variance Authority (TVA), a bureaucratic organization that exists outside of time and space and monitors the timeline. They give Loki a choice: face being erased from existence due to being a "time variant", or help fix the timeline and stop a greater threat. Loki ends up trapped in his own crime thriller, traveling through time.