Now that I have my new Plex system up and running, I have started to add audiobooks into it. At the moment I have only been able to add 200 books, so I do have someway to go yet, but that's plenty to be getting on with. So this will be easy now to track what I'm listening to and what I have already listen to. I will also be able to listen through my phone, computer and even my tv's at home, which is nice…. Hers's 7 audiobooks I have got loaded up..
Why Does E=MCsq – by Brian Cox, Jeffrey R. Forshaw
The most accessible, entertaining, and enlightening explanation of the best-known physics equation in the world, as rendered by two of today's leading scientists.
Professor Brian Cox and Professor Jeff Forshaw go on a journey to the frontier of 21st century science to consider the real meaning behind the iconic sequence of symbols that make up Einstein's most famous equation, E=mc2. Breaking down the symbols themselves, they pose a series of questions: What is energy? What is mass? What has the speed of light got to do with energy and mass? In answering these questions, they take us to the site of one of the largest scientific experiments ever conducted. Lying beneath the city of Geneva, straddling the Franco-Swiss boarder, is a 27 km particle accelerator, known as the Large Hadron Collider. Using this gigantic machine—which can recreate conditions in the early Universe fractions of a second after the Big Bang—Cox and Forshaw will describe the current theory behind the origin of mass.
Alongside questions of energy and mass, they will consider the third, and perhaps, most intriguing element of the equation: 'c' – or the speed of light. Why is it that the speed of light is the exchange rate? Answering this question is at the heart of the investigation as the authors demonstrate how, in order to truly understand why E=mc2, we first must understand why we must move forward in time and not backwards and how objects in our 3-dimensional world actually move in 4-dimensional space-time. In other words, how the very fabric of our world is constructed. A collaboration between two of the youngest professors in the UK, Why Does E=mc2? promises to be one of the most exciting and accessible explanations of the theory of relativity in recent years.
Star Wars Alphabet Squadron by Alexander Freed
On the verge of victory in a brutal war, five New Republic pilots transform from hunted to hunters in this epic STAR WARS adventure.
The Emperor is dead. His final weapon has been destroyed. The imperial army is in disarray. In the aftermath, Yrica Quell is just one of thousands of defectors from her former cause living in a deserters' shantytown―until she is selected to join Alphabet Squadron.
Cobbled together from an eclectic assortment of pilots and starfighters, the five members of Alphabet are tasked by New Republic General Hera Syndulla herself. Like Yrica, each is a talented pilot struggling to find their place in a changing galaxy. Their mission: to track down and destroy the mysterious Shadow Wing, a lethal force of TIE fighters exacting bloody, reckless vengeance in the twilight of their reign.
The newly formed unit embodies the heart and soul of the Rebellion: ragtag, resourceful, scrappy, and emboldened by their most audacious victory in decades. But going from underdog rebels to celebrated heroes isn't as easy as it seems, and their inner demons threaten them as much as their enemies among the stars. The wayward warriors of Alphabet Squad will have to learn to fly together if they want to protect the new era of peace they've fought so hard to achieve.
Carpe Jugulum by Terry Pratchett
Mightily Oats has not picked a good time to be priest. He thought he'd come to the mountain kingdom of Lancre for a simple little religious ceremony. Now he's caught up in a war between vampires and witches, and he's not sure there is a right side.
There's the witches: young Agnes who is really in two minds about everything, Magrat, who is trying to combine witchcraft and nappies, Nanny Ogg who is far too knowing…and Granny Weatherwax, who is big trouble.
And the vampires are intelligent – not easily got rid of with a garlic enema or going to the window, grasping the curtains and saying, "I don't know about you, but isn't it a bit stuffy in here?" They've got style and fancy waistcoats. They're out of the casket and want a bite of the future. Mightily Oats knows he has a prayer, but he wishes he had an axe.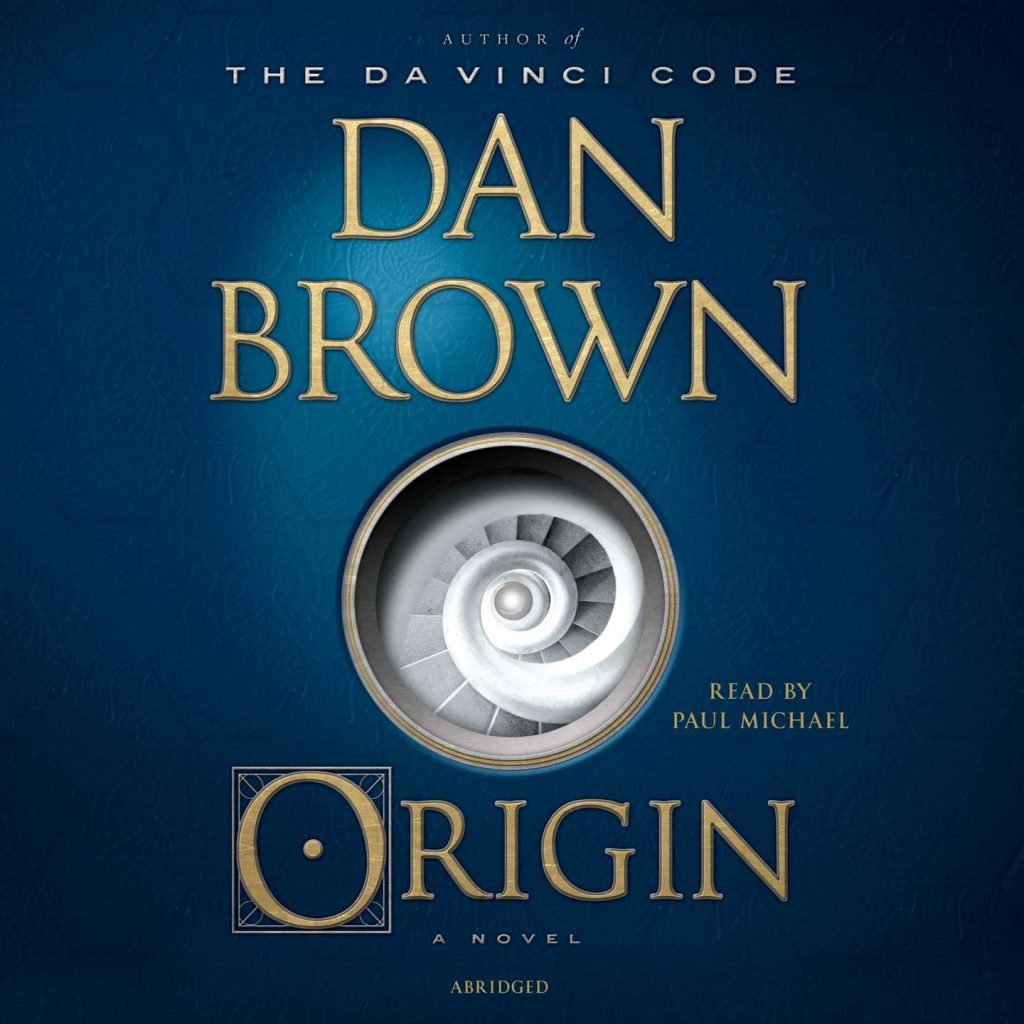 Origin by Dan Brown
Where do we come from?
Where are we going?
The stunningly inventive new novel from the world's most popular thriller writer.
Bilbao, Spain
Robert Langdon, Harvard professor of symbology and religious iconology, arrives at the ultramodern Guggenheim Museum Bilbao to attend a major announcement – the unveiling of a discovery that "will change the face of science forever." The evening's host is Edmond Kirsch, a 40-year-old billionaire and futurist whose dazzling high-tech inventions and audacious predictions have made him a renowned global figure. Kirsch, who was one of Langdon's first students at Harvard two decades earlier, is about to reveal an astonishing breakthrough…one that will answer two of the fundamental questions of human existence.
As the event begins, Langdon and several hundred guests find themselves captivated by an utterly original presentation, which Langdon realizes will be far more controversial than he ever imagined. But the meticulously orchestrated evening suddenly erupts into chaos, and Kirsch's precious discovery teeters on the brink of being lost forever. Reeling and facing an imminent threat, Langdon is forced into a desperate bid to escape Bilbao. With him is Ambra Vidal, the elegant museum director who worked with Kirsch to stage the provocative event. Together they flee to Barcelona on a perilous quest to locate a cryptic password that will unlock Kirsch's secret.
Navigating the dark corridors of hidden history and extreme religion, Langdon and Vidal must evade a tormented enemy whose all-knowing power seems to emanate from Spain's Royal Palace itself…and who will stop at nothing to silence Edmond Kirsch. On a trail marked by modern art and enigmatic symbols, Langdon and Vidal uncover clues that ultimately bring them face to face with Kirsch's shocking discovery…and the breathtaking truth that has long eluded us.
Warlords of Ancient Mexico by Peter G. Tsouras
Learn the unbelievable true history of the great warrior tribes of Mexico. More than 13 centuries of incredible spellbinding history are detailed in this intriguing study of the rulers and warriors of Mexico. Dozens of these charismatic leaders of nations and armies are brought to life by the deep research and entertaining storytelling of Peter Tsouras. Tsouras introduces the reader to the colossal personalities of the period: Smoking Frog, the Mexican Machiavelli, the Poet Warlord, the Lion of Anahuac, and others… all of them warlords who shaped one of the most significant regions in world history, men who influenced the civilization of half a continent. The warlords of Mexico, for all their fascinating lives and momentous acts, have been largely ignored by writers and historians, but here that disappointing record is put right by a range of detailed biographies that entertain as they inform. Students of the area, historians working in American history, and long-term visitors and tourists to the region will gain a much clearer understanding of the background history of these territories and the men who formed and reformed them.
The Hitchhiker's Guide to the Galaxy by Douglas Adams
Seconds before the Earth is demolished to make way for a galactic freeway, Arthur Dent is plucked off the planet by his friend Ford Prefect, a researcher for the revised edition of
The Hitchhiker's Guide to the Galaxy who, for the last 15 years, has been posing as an out-of-work actor.
Together this dynamic pair begin a journey through space aided by quotes from The Hitchhiker's Guide ("A towel is about the most massively useful thing an interstellar hitchhiker can have.") and a galaxy full of fellow travelers: Zaphod Beeblebrox, the two-headed, three-armed ex-hippie and totally out-to-lunch president of the galaxy; Trillian, Zaphod's girlfriend (formally Tricia McMillan), whom Arthur tried to pick up at a cocktail party once upon a time zone; Marvin, a paranoid, brilliant, and chronically depressed robot; and Veet Voojagig, a former graduate student who is obsessed with the disappearance of all the ballpoint pens he bought over the years.
Where are these pens? Why are we born? Why do we die? Why do we spend so much time in between wearing digital watches? For all the answers stick your thumb to the stars. And don't forget to bring a towel!
So, Anyway… by John Cleese's
John Cleese's huge comedic influence has stretched across generations; his sharp, irreverent eye and the unique brand of physical comedy he perfected with Monty Python, on Fawlty Towers, and beyond now seem written into comedy's DNA. In this rollicking memoir, So, Anyway…, Cleese takes listeners on a grand tour of his ascent in the entertainment world, from his humble beginnings in a sleepy English town and his early comedic days at Cambridge University (with future Python partner Graham Chapman) to the founding of the landmark comedy troupe that would propel him to worldwide renown.
Cleese was just days away from graduating Cambridge and setting off on a law career when he was visited by two BBC executives who offered him a job writing comedy for radio. That fateful moment – and a near-simultaneous offer to take his university humor revue to London's famed West End – propelled him down a different path, cutting his teeth writing for stars like David Frost and Peter Sellers and eventually joining the five other Pythons to pioneer a new kind of comedy that prized invention, silliness, and absurdity. Along the way he found his first true love with the actress Connie Booth and transformed himself from a reluctant performer to a world-class actor and back again.
Twisting and turning through surprising stories and hilarious digressions – with some brief pauses along the way that comprise a fascinating primer on what's funny and why – this story of a young man's journey to the pinnacle of comedy is a masterly performance by a master performer.
Podcasts